UNPLANNED NIGHT MOVEMENTS
AMS has a night regime. Night slots are required for departures planned between 22.40 – 06.55 LT (block times) and arrivals planned between 23.00 – 07.15 LT (block times). Flights operated between 23.00 – 06.59 LT (runway time) without having a night slot will be considered as unplanned night movements.
Note: Slots are allocated in UTC. LT in winter seasons: UTC+1 and in summer seasons: UTC+2.
ACNL is performing slot monitoring for the night regime. Unplanned night movements will be reported to the Human Environment and Transport Inspectorate.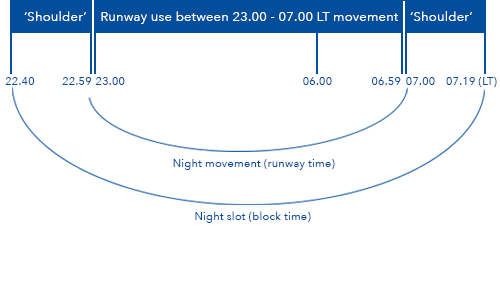 APPLICABLE PROCEDURE
For night movements without an allocated night slot the policy regarding night slot enforcement of the Human Environment and Transport Inspectorate is effective. Airlines are recommended to review and abide to the applicable policy and procedures which are published on the website of the Human Environment and Transport Inspectorate: