NIGHT VIOLATION
At Amsterdam Airport Schiphol a night regime is in place. Night slots are required for departures planned between 22.40 – 06.59 LT (block times) and arrivals planned between 23.00 – 07.19 LT (block times). A flight operated between 23.00 – 06.59 LT (runway time) without having a proper night slot will be considered as a formal violation of the night regime of the airport, unless the airline can prove that the unplanned night movement was due to unforeseeable and unavoidable causes outside the carrier's control. Airlines are recommended to review and abide to the applicable procedure and sanctioning system described below.
Monitoring of the night regime at AMS is being performed by ACNL while the ILT is responsible for the enforcement.
At RTM and EIN the night period is not coordinated. Enforcement is done by ILT.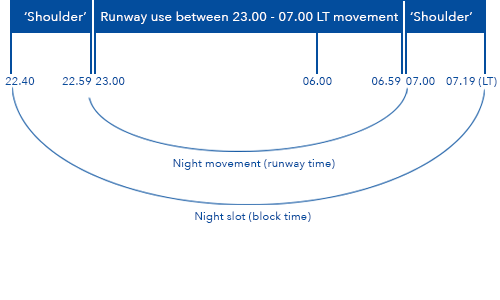 PROCEDURE
Monitoring of night violations will be done every night. In general the following procedure follows after a night violation has been identified:
Airlines receive weekly reports stating their night violations.
Airlines have 5 business days to send explanation, justified with factual data and prove, on why the night violations happened. These need to be submitted to our Monitoring Department.
ACNL may consider the night violation to be beyond control and unforeseen (Force Majeure) based on the explanation of the airline.
Failure to send explanation within the response time or in an insufficient justification will lead to the consequence that the violations will be classified as formal violations.
SANCTIONING
If airlines have operated during the night and/or early morning period without a proper slot and have done this repeatedly and intentionally, if they fail to re-coordinate their slots and continue their abusive operations, the matter will be considered a violation. The following steps, according to the rules of the Inspectorate of Infrastructure and the Environment will be taken. See policy below for full details.